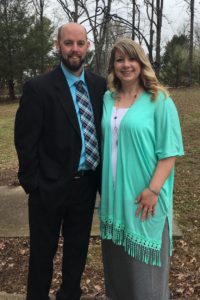 Pastors Brian & Cheryl Moser
Brian grew up at Southside church and attended the Apostolic Faith Bible College in Baxter Springs, KS. It was there that he met Cheryl and upon graduation and together they began their ministry. They were youth pastors for over 10 years and each taught at AFBC for 10 years. Cheryl continues to teach at the college and Brian has a part time job at Hobby Lobby in addition to pastoring the church.
Brian & Cheryl have a heart for the Lord and for helping people come to know Him and know Him better. They would love to meet you and for you to experience God's goodness in your life.
Teachers: Abby Buschman, Rachel Stemm
We are going through the Bible using the Answers Bible Curriculum. We are finishing up the old Testament. We do Skits, Worksheets, and take home sheets.
They hear Bible Stories, Sing songs and
We study relevant Bible topics that apply to our lives today. This class also plans and organizes many of the churches activities and fellowships.