Here is what we have coming up in the near future!!!
1st and 3rd Sunday donut and fellowship AT 9:15-10 AM
Men's and Ladies Bible Study will be held the first Sunday evening of each month at 6 p.m. Teens are invited to join in the study. Childcare will be provided for younger children.
Join us as we study the Word together and encourage one another in faith.
Our Annual Christmas Program will be held on Sunday, December 17th at 6 pm!
Come help us celebrate our Savior's birth!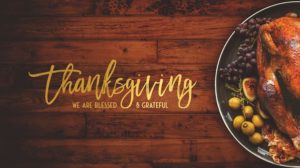 us this Sunday, November 19th for a special Thanksgiving Fellowship Dinner following our morning service. And then come back Wednesday evening @ 7 pm as we give thanks to our great God for all He has done in a special Thanksgiving service. See you there!
Stay in touch for all the updates & announcements!